Dehydrators are kind of a unique appliance; they remove moisture from foods by forcing warm/hot air over the food and carrying the produced moisture away through a vent. Dehydrators have been around since the 1800's (just learned that) and have become more popular in the past several years. I think everyone that loves to cook or eat, needs one in their home kitchen.
Dehydrators can be used for drying nuts, fruits, herbs, crackers, vegetables and my favorite MEAT!!! It doesn't have to be big, fancy or expensive. A good home dehydrator can be purchased for as little as $40. I recommend a Nesco FD-37 as a great starter dehydrator and NO I don't receive compensation from Nesco or American Harvest; that's basically what I started with but an older version and it worked very well.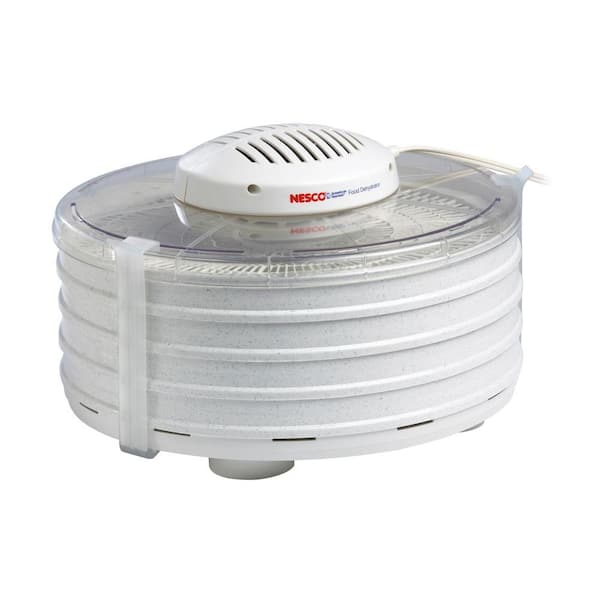 My first "home" dehydrator (Nesco 5 tray) was a Christmas gift from my mom and dad back in the early 90's. Unfortunately, my dad didn't live long enough to see the seed they planted grow into our little jerky business but thankfully, my mom has. God certainly works in mysterious ways and we give Him all the glory for our little business!
Anyway, when I started making jerky more often for friends and family I had the one dehydrator then as I started making more and selling some, I ended up adding another, then another to my kitchen eventually leading up to 6 going at one time. Having 6 dehydrators going at a time took up too much space and wasn't very efficient so it was time to upgrade.
Going from a home dehydrator to commercial grade is a HUGE step up in price but with that jump the quality, longevity and ease of cleaning are also a HUGE step up. Trying to avoid that huge spike in cost, I looked into larger home dehydrators (LEM, Excalibur, STX, Yescom, Della, Cabela's) and eventually bought a couple of 10 tray stainless steel models with some success AND some disappointments. The first one I bought was a stainless steel STX International with digital control panel. It lasted about a year and the fan burnt up on me…I was not happy but I was able to find a replacement fan for it. About a year later the control panel quit working…I couldn't find a replacement panel OR parts to repair the board. So beware of these low end "commercial" dehydrators with a digital control panel. The cases are stainless and you can find replacement fan motors and heating elements but not the control panel. I'll also mention that at this price point usually the trays are coated BUT NOT stainless steel) The second one I bought was a Della, I think it was a 1200 watt unit, pretty much the same as the STX only it had stainless steel trays which are MUCH MUCH easier to clean. Cleaning the jerky trays is my least favorite task with regard to our business! I've found that the fan units (and heating elements) on ALL dehydrators WILL fail after continued use; even the expensive commercial units.
For some reason, I kept both of these units in the attic and I'm really glad I did! Like I said before, God has had His hand on our business even in little ways. Ill tell ya more about the "Frankenstein" operation in a minute.
Becoming frustrated with the larger home dehydrators and their short comings, I decided to shop around for a low end commercial dehydrator. I found an add on Craigslist-Cleveland, Ohio offering 10 commercial dehydrators for sale at a $100 bucks a piece or $900 for all of them….hum? The brand was "The Sausage Maker" (nope, don't receive compensation from them either) so I went to their website and checked out the dehydrators. The closest model (14 tray) I could compare, listed at $3500!! So I rented an van and headed to Cleveland. Well, if it sounds to good to be true it probably is! I wont go into much detail but I get there and there are NO TRAYS for any of them; the units are all spread out in this filthy basement, they are all wired for 220 V AND the only 220 plug is on the 3rd floor…..with no elevator! These are Hog Molly units like 22×22 that weigh about 50 lbs. After carrying 3 units up and down the stairs to test them, I decided that I was done! I did leave with 3 of them 🙂
Restoring these dehydrators introduced me to The Sausage Maker products and how they back their product up with support and spare parts. I can attest to the quality of their products; they are expensive but they are awesome! Everything they sell is made in the USA and most of it made in Buffalo New York. The model I have is a D-14 with a fully programable touch screen. 4 fans with 4 heating elements. Yes it lists for $3500 bucks but I can dry about 15 lbs of meat at one time. The unit is also super easy to keep clean, fairly quiet, and after three years of super duty use, knock on wood nothing has failed!
Now on to "Frankenstein" While I was gathering the parts to restore the big dehydrators I noticed TSM offers a complete replacement control/fan/heating element cabinet for one of their 10 tray units. Hum? So I took a chance and ordered one. Then I put the XTS on the operating table. With a little work and modification, I was able to create my "Frankenstein" dehydrator. NOW, I will be able to replace anything that may go out in the future!! It is an analog unit and the timer isn't as accurate as I need it to be. So I bought an plug in programmable timer and that solved that problem! I was able to do the same for the Della unit as well, so we have Franky and his other brother Franky 2. So if you've purchased one of those types of stainless steel units and experienced their control panel failure, take a look and see if you can make these cabinets work for you. I have had two fans fail on Franky 2 due to a lack of intake airflow (which I'm working on) but I was able to order a replacement and it arrived in just three days.
So the bottom line is; we use The Sausage Maker dehydrators in our little jerky shop. There are other dehydrators out there that will work just as well and at a lower price points. So before buying a dehydrator, do your research and get other guys (or gals) opinions. In my opinion the most important thing is to find out the availability of replacement BEFORE you need them.